Welcome to the Phoenician Resort & Spa, Arizona's premier luxury resort destination—the home of CGC's 2020 Customer Focus!
The Phoenician has undergone a series of renovations and improvements that we are excited to enjoy with you at our upcoming conference. When entering the main building, you will experience a newly transformed, contemporary resort, refreshed for today's modern, luxury traveler. With beautiful statues, an interactive resort map, a new Thirsty Camel, and much more.
The Thirsty Camel is now featuring panoramic views of the resort and valley beyond, as well as offering a light menu with an exceptional selection of spirits and handcrafted cocktails. The reconstruction of the pools provides now a full-service Mediterranean-inspired casual, outdoor restaurant with dining opportunities right along the poolside. A new fitness center, a renewed spa and luxurious hotel rooms are all under way to wow you upon your arrival.
After a 10-month redesign, the new Phoenician Golf Course has reopened as an outstanding facility for golf enthusiasts. Using previously existing fairway corridors to reroute the course and develop new holes with re-contoured fairways as well as rebuilt and resurfaced green complexes, Architect Phil Smith transformed the previous 27-hole facility into a cohesive 18-hole golf course with a natural rhythm and flow.
And let's not forget about the new two-story athletic facility blending innovative and modern fitness with pure recreational fun, and as an extension the newly renovated and expanded spa that received Forbes Five Star Award 2020
Phoenician Resort Information
The Phoenician Resort & Spa
6000 East Camelback Road, Scottsdale, AZ  USA 85251
800.888.8234 | 480.941.8200
The Phoenician Resort
Resort & Conference Dress Code
Casual and business casual dress codes are both accepted for the event.
Directions to/from Phoenix Sky Harbor International Airport
Sky Harbor International Airport
2485 E Buckeye Rd,
Phoenix, AZ 85034
602.273.3300 | Sky Harbor International Airport
Download Directions | Google Maps
Current Weather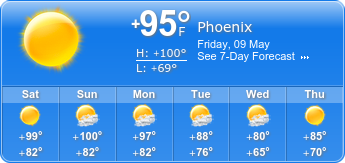 Phoenician Rates & Registration
Hotel Registration
Regular Hotel Room Rate: $149.00 per night
Daily Resort Fee: $10.00 per night
Portage Fee: $10.00 one-time charge per stay
Housekeeping Fee: $10.00 +tax one-time charge per stay
Overnight self-parking: $18:00 per car per night
Overnight valet parking: $33.00 per car per night
Phoenician Hotel Reservations CGC Group Contact
Jaliela Malik
Group Account Coordinator
480.941.8200 | Email Jaliela
Phoenician CGC Program Contact
Frank Lococo
Sales Account Director, West Coast
480.423.2413 | Email Frank